The Best Upholstery Foam For Sofa Cushions & Chair Padding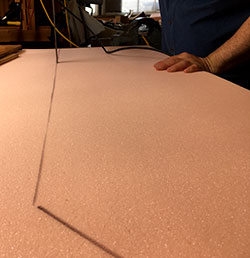 Custom Cut Premium Quality Foam
Do you need to replace sofa foam cushions, chair cushions, boat cushions or cushion foam? The experts at Mac's Upholstery help you choose the correct foam for your needs. You'll find dozens of foam samples inside our Ballard showroom. Select the polyurethane foam or memory foam with the perfect density, surface firmness, surface feel, support and firmness retention characteristics. We also stock hundreds of fabric, vinyl and leather samples.
Premium Quality Foam
Most foam you find in neighborhood retailers and big box stores is junk. It's inexpensive and soft, but it doesn't provide much support. It can also "go flat" before you know it.
If you need foam for packaging or light use you can get by with junk foam. We don't sell it. We only sell high grade polyurethane foams. Quality foam is manufactured from petroleum, so it can be expensive. It costs more but it's a better value because it lasts years longer than the cheap stuff.
Quality Upholstery Foam Custom Cut For Your Needs
If you need chair padding, couch foam, foam for couch cushions, foam cushions cut to size or furniture foam cushions, give us a call. Our upholstery experts will cut any density of foam to your specifications. Save money by preordering the size you want.
Superior Quality Foam Makes a Big Difference
Upgrade the look and feel of your sectional, sofa, settee or chair with perfect fit, commercial grade foam.
Some like the feel of down cushions, but over time the feathers compress and the cushions lose shape. Down is not only difficult to maintain, it can be a problem for folks with allergies. These cushions were originally stuffed with down (left).
We replaced the down with commercial grade polyurethane cushion foam, then wrapped the foam with Dacron® to enhance the look and feel (right). As you can see, the difference is striking. Because we only use commercial grade furniture foams, these cushions will look and feel great for years. What's more, a polyurethane cushion can be soft or firm. Our polyfoam comes in a wide range of densities. Drop by our Ballard showroom to find the foam that's right for you.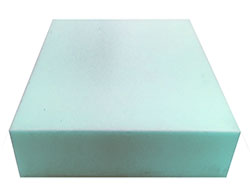 Hot Press Foam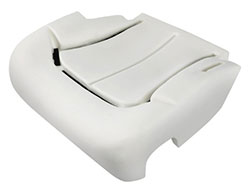 Cold Press Foam
Most high quality polyurethane foams are processed using temperatures up to 250° C. This sort of foam is then cured and cut to size.
During this hot mold production process a manufacturer will adjust the properties of the polyurethane to achieve a desired strength, comfort level and durability. Because the most common grades of this foam are available in different densities, it's a perfect foam for furniture. We use this for most couch cushions, chair cushions and bunks. These foams stay bouncy and last a long time.
Cold cure foam tends to be much denser. Because manufacturing temperatures rarely rise above 60° C, cold cure foam is ideal for injection-molded products such as car seats. This closed cell foam is more rigid and water resistant. It's also a lot more expensive than foam manufactured the other way. We do not sell closed cell foam.
Our polyurethane foam is available in a range of depths and densities; the higher the "HR" number the stiffer the foam. For example, HR22 is extra-soft, HR70 is stiff. The most popular upholstery foams are HR33 and HR45.
HR45 provides sturdy support without sacrificing comfort. HR33 is considerably softer. Most sofas and chairs are manufactured using HR33 or a combination of HR45 and HR33. Some prefer the cushier feel of HR33 for seat backs. HR45 is used for seat bottoms where a little more support is preferable.
Boat owners and commercial fishermen often choose an even stiffer foam, such as HR55, for galley seating and settees. The softer HR33 is popular for marine mattresses.
Foam Density Guidelines for Selected Furniture

Seat Foam

Backrest

Wing Chairs
HR45-HR55
HR33
Sofas
HR33-HR45
HR22-HR33
Nooks
HR45-HR55
——
Window Seats
HR28-HR45
——
Dining Seats
HR45-HR55
——
Stools
HR55
——
Office Chairs
HR55
HR33-HR55
One rule of thumb when selecting foam: the softer the foam, the thicker it needs to be. For example, two inches of an extra stiff foam might be adequate, but you'll simply "bottom out" when sitting on two inches of an extra soft foam.
Here's a chart matching furniture and foam densities. Please note, these are just guidelines. Your choice may be entirely different based on individual needs and preferences.
Drop by our Ballard showroom to test our selection of premium polyurethane foams. We'll help you find the one that's right for you.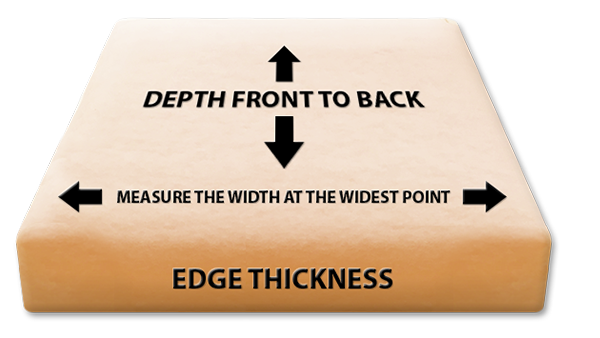 Measuring Tips
To get the most accurate price estimate when ordering foam, be sure take three measurements before you call.
Edge thickness. Most sofa cushions are between four and six inches thick. If the foam is wrapped in Dacron® or some other material, it may appear slightly thicker.
Depth from front to back.
Width at the widest point. Most sofa cushions are rectangular, but some have "tails" or "ears" that cover the face of the armrest. Be sure to include this when measuring the width.
Memory Foam
Memory foam was developed at NASA's Ames Research Center in the mid-sixties. It's made from polyurethane with additional chemicals to make it more gummy and dense.
Memory foam comes in various densities. Low density foam is pressure sensitive. When you recline on low density foam, it molds to your body. The foam returns to its original shape after you get up. High density memory foam responds to body heat instead of pressure.

For many years, memory foam's been too expensive for household use. It still costs more than most foams, but there are methods to make memory foam affordable. We'll show you how.
One final thought on memory foam. It's great for bunks and mattresses, but we do not recommend it for chairs or sofas. The reason is pretty straightforward. When you're sitting down, your body weight travels through your butt. In most cases this is a relatively small area. Memory foam doesn't work very well when a lot of weight is concentrated in a small area; the foam simply collapses. When you're lying down, your body weight is spread over a larger area, allowing the foam to better distribute the weight.
Natural Latex & Synthetic Latex
Latex is different than polyurethane or memory foam. Natural latex is harvested from rubber trees in the tropics. It's bio-degradable, resists bacteria, mold & mildew.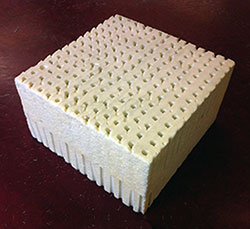 Latex Foam Block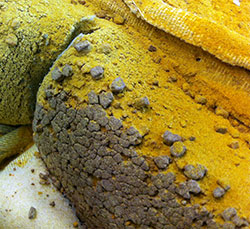 Latex Deteriorates Faster
Latex can be an excellent choice for folks in search of a more organic lifestyle. But, because it's made from naturally occurring raw materials, natural latex deteriorates at a much faster rate that its synthetic cousin. It's also quite a bit more expensive. For those reasons, we do not sell natural latex foam.
Synthetic latex is manufactured from petroleum products and naturally occurring tree resin. It's more durable, but doesn't have the feel of natural latex.
Blended latex is pretty much what you'd expect; a combination of natural and synthetic latex. Lots of people prefer this product because it's comfortable, durable and much more environmentally friendly. There are various "flavors" of blended latex. Their properties vary based on the ratio of natural to synthetic components.
Whether you prefer polyurethane foam or memory foam, the experts at Mac's Upholstery will help you select the one that's right for you.