Rebuild Subaru Bench Seat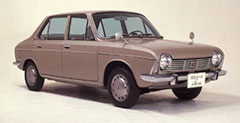 Here's a car you don't see every day. In fact, there's a pretty good chance you've never seen it. This is a 1971 Subaru FF-1 Star. The Star was one of the first modern front wheel drive cars. It was only manufactured for a couple of years in the early 70s. If you blinked, you missed it!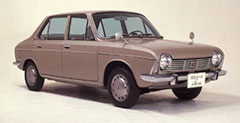 According to Subaru, the FF-1 Star had a long list of unique features that foreshadowed the types of equipment that are typical on today's vehicles. Besides front-wheel drive, the FF-1's chassis systems included rack-and-pinion steering, independent suspension and front drum brakes mounted inboard. The inboard mounting took weight off the wheels for improved stability and control.

Trashed Subaru Bench Seat

Recovered Subaru Seat

Perforated Vinyl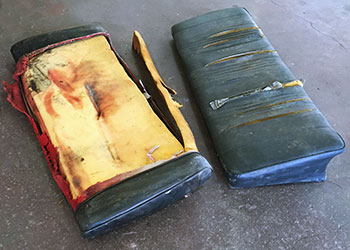 As you can see from the first pic, the old Subaru's rear bench seat was totally trashed when it came to us. We were able to pattern the original design, but aside from that, we had to toss or recycle everything.
Before fabricating the new seat cover, we installed brand new polyurethane foam padding. Upholstery foam has improved dramatically during the past half century, so the new seat will be a lot more comfortable and resilient.
Finally, we used a durable, perforated vinyl for the seat cover, matching the color and stitch pattern from the original. When we were finished, the rebuilt bench seat looked just like it did back in 1971.