How to Save Money on Headliner Repair
If you're handy in the garage, you can save money by removing your headliner and bringing it to us for repair. Depending on the car, that can be an easy task or borderline impossible.
One of our customers recently brought us this headliner from a 2002 Toyota Camry. He'd planned on recovering the board himself, but as you can see, it cracked during the removal process. Adding insult to injury, the replacement fabric and adhesive refused to cooperate.

Partially Stripped Headliner Board

Repair Cracked Headliner

Repaired & Recovered Headliner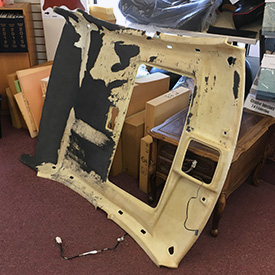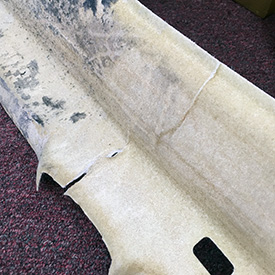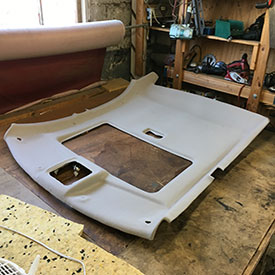 The cracked board and ruined fabric illustrate the pitfalls of do-it-yourself headliner replacement. We don't recommend it. But, if you can bring the headliner to us, the repair goes faster and costs less. Even after repairing the crack in the board, this customer saved quite a bit by bringing us the board. Instead of spending $500, it only cost him $250 to repair and recover his damaged headliner.