A "Dog Proof" Cargo Liner
There are plenty of aftermarket SUV cargo liners on the market. Most do a great job protecting the floor, but not much else. The owner of this BMW X4 needed something with more complete coverage — a liner that protected the entire cargo compartment from service dogs caged in the back. He needed a custom fabricated cargo liner.

BMW X4 Cargo Compartment

Template For Custom Cargo Liner

Notched Corners For Perfect Fit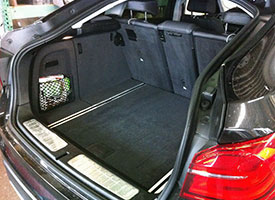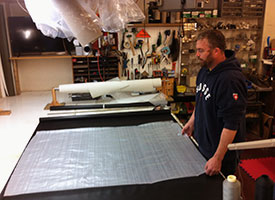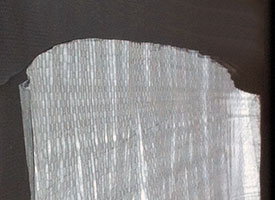 The first thing we do when fabricating any custom product is cut templates. For this project, it was important to allow for the notched corners, curved face and beveled sidewalls of this particular cargo compartment. We use these templates to size and cut the vinyl sections.
For something like this, it's hard to beat Herculite® vinyl. The big tarps you see on long haul trucks are often manufactured from Herculite® — it's thick, rugged and doesn't stretch very much. If it's tough enough for the Interstate, it's tough enough for Fido. To provide better traction for dogs, we used the textured side of the vinyl.

Sewing Custom Cargo Liner

Side Coverage

Velcro Fastener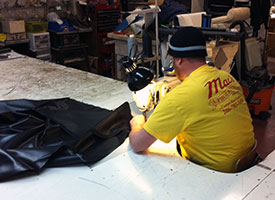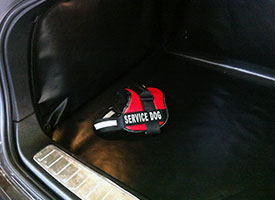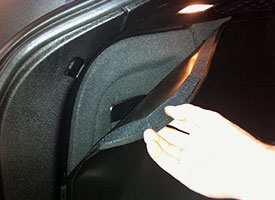 Originally, we were going to anchor the cargo liner with sidewall snaps, but Velcro® turned out to be a better solution. Velcro® naturally adheres to the carpet in the cargo compartment, so there was no need to damage the sidewalls by installing snaps. It also makes removal and cleaning a breeze.
Our custom-made vinyl liner turned out to be the perfect way to "dog proof" the cargo compart of this BMW.