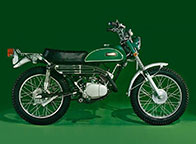 Yamaha's CT1 was an early version of the company's popular 175cc Trail/Enduro. The small bike had a three year run. The CT1A was built in 1969. This one, the CT1B, was manufactured one year later in 1970. The "C" model followed in '71. There are only minor differences between the models.
The seat pan from a fifty year old bike is usually in bad shape. This one was a real mess; it was cracked and rusted all the way through in some places. The bike owner purchased an OEM reproduction seat cover, but the pan was so trashed the cover wouldn't fit.
Instead of settling for a half-assed DIY installation, he did the smart thing and contacted us. As you can see from the final two pics, we were able to make it work.

Fifty Year Old Seat Pan

Rust Holes in Old Seat Pan

Cracks & Rust

Repaired Seat Pan

Modified Foam & Cover
The first thing we had to do was repair and repaint the rotted seat pan. During that process we discovered some of the metallic "teeth" used to grip the seat cover had broken off.
We had to compensate for the broken teeth by reshaping the foam and cover. Since the foam and cover were designed specifically for the seat's original dimensions, this was a little tricky. In effect, we had to carefully modify the foam so it would fit over the tail. The cover also required some tweaking to make it right.
These seamless modifications are not the sort of thing you can do without the proper tools and technical experience. We have plenty of both!