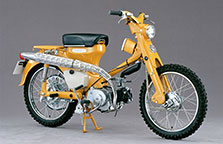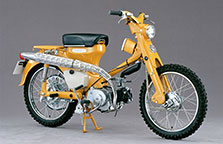 The Trail 55 was one of Honda's original off-road bikes. Built between 1962 and 1964, they were a cross between a scooter and an off-road bike. The small motorcycles featured an automatic clutch, a four stroke engine, and 17 inch wheels with knobby tires.
According to Wikipedia, this family of bikes had "either three or four speed transmissions, plus a second choice of HIGH or LOW bands to apply the same gears to road travel or slower off-road travel. The early bikes achieved this by having two drive sprockets at the rear wheel, which required the rider to dismount and thread the chain onto the desired sprocket. Later bikes placed the two-stage choice within the gearbox, and required the rider to only move a lever."
With all of that engineering, they could handle almost any track. Updated versions of the bike were called "Posties" in Australia due to their long association with the Australia Post.

Original Trail 55 Seat Pan

Original Trail 55 Seat

Reconditioned Trail 55 Seat Pan

Recovered Trail 55 Seat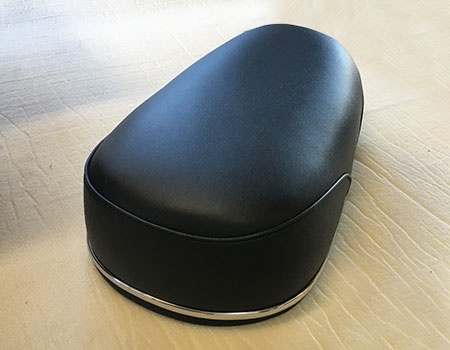 One of our Wisconsin customers got his hands on a working Trail 55. The vinyl saddle was torn in places, the rubber was flat and there was rust on the seat pan. It was time for a major overhaul.
We began by refurbishing the seat pan. We scoured off the rust, primed and repainted the surface, then revitalizeed the OEM rubber. We also cleaned and polished the chrome.
The seat foam was shot, so we tossed the old stuff and replaced it with state-of-the-art polyurethane foam. The foam work restored the original feel, but the owner wanted something softer. With a seat this thick there's plenty of room for gel, so we recommended a custom gel pad. That did the trick. The seat turned out softer than before, but identical to the original.