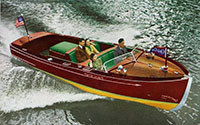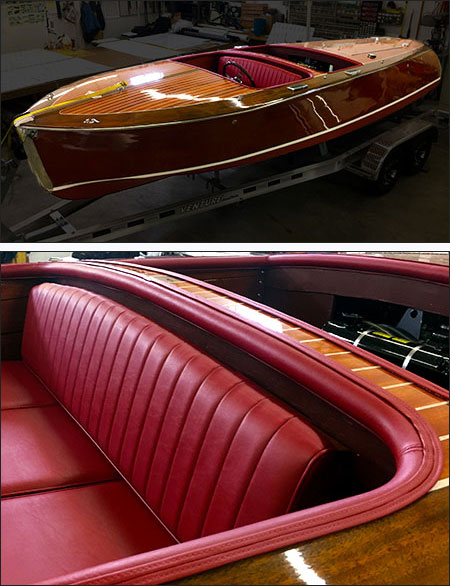 Wooden speedboats were the cat's meow back in the Roaring Twenties. Sadly, there aren't many of the original woodies left; they were hard to repair and maintain.
While it's not an original, this handmade replica is the spitting image of a Chris-Craft mahogany runabout from back in the day. It was manufactured by a Washington man from a set of authentic drawings he got his hands on. It took him ten years to do it. Can you believe this is the first boat he ever built?
While the owner did most of the work himself, he decided to leave the upholstery to the experts.
The cockpits in these old boats were designed to look like the inside of a sport car. Some of them even had foot pedals instead of throttle levers.
The seat cushions were also patterned after cars. We fabricated these seatbacks with Seaquest American Beauty vinyl using an automotive tuck a roll technique. The foam is two inch HR33. We used a stiffer three inch HR45 foam for the welted cushions. The vinyl trim around the edge of the cockpit and rear compartment dresses it up nicely.
What an amazing accomplishment for a first time boat builder! You'd have a hard time distinguishing this from the Real McCoy.