A Breakthrough In Bedding For Boats & Fishing Vessels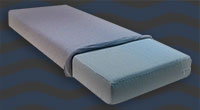 If you've ever wrestled with bedding that doesn't fit your bunk or found yourself sleeping on a filthy mattress, the revolutionary BunkSox® is for you.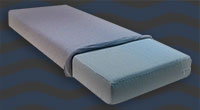 A BunkSox cover is easy to use. It takes less than thirty seconds to slip on. When properly tucked-in, a BunkSox mattress cover stays in place; no more waking-up in the middle of the night with sheets and covers all over the place.
Best of all, a BunkSox® mattress cover/boat sheet is a lot less expensive than custom-made boat sheets. Custom bunk sheets will cost you a couple of hundred dollars or more. The affordable BunkSox only costs $44.98.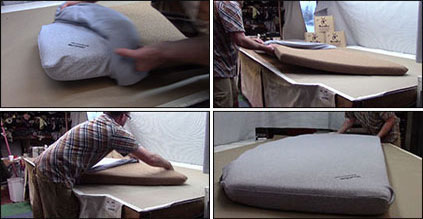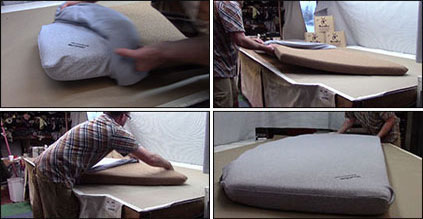 You can use BunkSox as either a mattress cover or bottom sheet. And because the soft, durable fabric (50% cotton 50% polyester) is specially manufactured to stretch, the BunkSox conforms to just about any mattress, including a coil mattress or a V berth. Use it as V berth bedding, boat bedding or sailboat bedding.
When your BunkSox mattress cover/boat sheet gets dirty, just toss it in the washing machine. Launder it the way you'd launder marine bedding, sheets or blankets — no worries. It's manufactured to last, but you can double the life of a BunkSox sheet by alternating which side you sleep on.
The BunkSox comes in three convenient widths: Small (24 to 30 inches), Medium (30 to 40 inches) and Large (40 to 50 inches). To select the size that's right for you, simply measure the width of your mattress. Because the fabric is "super-stretchy" any one of the sizes will accomodate a standard mattress depth.
Bunk Short Inserts For V Berths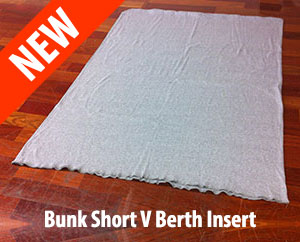 Bunk Shorts are BunkSox inserts engineered to fit over V berth center cushion inserts. For a great fit, buy a BunkSox for each side of your V berth, then a Bunk Short to cover the cushion insert. Learn more about Bunk Shorts on our BunkSox.com web page.
RV Bedding, Dorm Bedding & Travel
BunkSox are perfect as boat sheets or sailboat sheets, but you don't have to own a boat or work on a ship to enjoy the benefits of a BunkSox. They're great for dorm bedding, RV bedding, camping or the occasional night on the couch. Outfit your RV or boat with affordable, easy-care BunkSox, then keep one or two at home for travel or just in case.
Forms Fits Over Mattresses
The images below show a medium size BunkSox fitted over a custom made foam mattress 86 inches long, 30 inches wide, with a depth of 7½ inches. This is roughly the mattress size for dorm bedding or marine bedding. If you're using a BunkSox instead of a V-berth sheet, simply order the large size instead of the medium. Here's a link to our online store where you may purchase a BunkSox mattress cover.