Custom Manufactured Hull Liners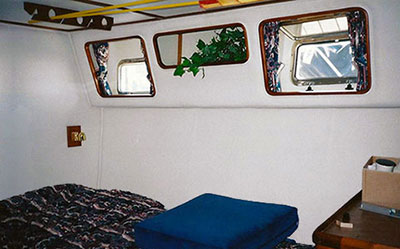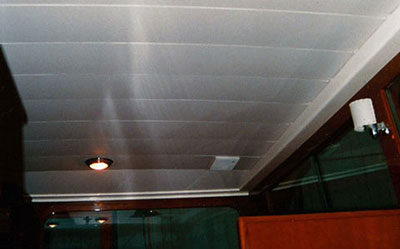 A hull liner is one of those things you never notice unless it's torn, stained or delaminating. If the liner is damaged, your cabin is never going to look its best.
A new headliner or hull liner is among the most economical ways to upgrade your boat. In addition to brightening the cabin, a new liner covers stains, provides insulation and enhances the value of your watercraft.
Custom Installed Boat Headliners
Mac's Upholstery is Puget Sound's leader in custom marine headliners and hull liners.
Years of fabricating and installing hull liners has taught us that every project is different. Properly repairing a boat headliner or replacing a hull liner requires a series of steps. You can't just tack on new fabric and call it good.
After stripping the old liner and fasteners, the hull needs to be thoroughly sanded and prepped. In some cases we'll recommend a padded liner, in other cases a thin fabric works fine.
Whatever fabric you choose, it needs to be cut and attached with great care, especially when the surface is concave or irregular. You only have one chance to get it right!
Environmental conditions impact the life of a liner, but when it's installed by the professionals at Mac's, you can expect a hull liner or headliner to last up to 15 years.
In most cases, our technicians do the work dockside and onboard your watercraft. For trailer boats, it can be more cost-effective to restore the hull liner or boat headliner at our Ballard shop. Wherever we do the work, you can count on Mac's Upholstery to use the finest materials and the latest technologies to repair or replace your boat liner.
Boat Headliner Fabric Colors & Textures

— Please Note Colors Are Approximate —

PH9

White Perforated)
NA6845

White Non-Perforated
NA6845F

White Non-Perf. Foam Back
EV134

White Perforated (Foam Back)
EV133

Irish Tweed Light Grey

Popular Hull Liner Colors & Fabrics

— Colors Are Approximate —

Silver Blend

Cream Blend

Sand Blend

Oyster

Surf

Boat Headliner Fabric Colors & Textures

— Please Note Colors Are Approximate —

PH9

White Perforated)
NA6845

White Non-Perforated
NA6845F

White Non-Perf. Foam Back
EV134

White Perforated (Foam Back)

Popular Hull Liner Colors & Fabrics

Cream Blend

Sand Blend

Oyster

Surf

Hull Liner & Marine Headliner Installations

Starboard Hull Liner

V Berth Liner

Hull Liner Behind Cabinets