We're not sure about the age or provenance of this lovely mahogany settee. It's been reupholstered at least three times, so we figure it's more than one hundred years old. It includes camelback, Chesterfield and Victorian design elements. When it arrived in our shop, the cushion foam was shot and the elegant cut velvet upholstery was tattered.
It needed new upholstery, but fabric wouldn't be enough to restore this tufted settee to its original glory. We'd have to strip it down to the frame and replace almost everything.

Tufted Mahogany Settee

Rebulding Spring Box

Repairing Back Springs

New Seat Cushion & Fabric

Cutting Button Holes

Upholstering Tufted Arm

Tufted Mahogany Settee

Rebulding Spring Box

Repairing Back Springs

Cutting Button Holes
After removing the foam and fabric we realigned the coil springs. It's worth pointing out that a backrest with coiled springs is a sign of quality craftsmanship. A lot of manufacturers forgo backrest springs to save a few bucks. This sofa was made the right way.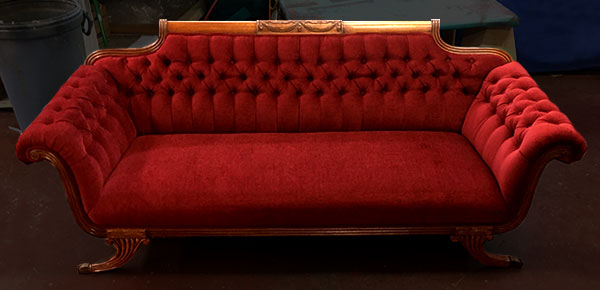 Restored Mahogany Settee
With the coils reset and anchored with eight way ties, we turned our attention to the cushion padding. This settee required two different foams; firm HR45 polyurethane for the backrest and arms, medium density HR33 for the seat cushion. Since the arms and back are tufted, we cut holes in the foam to accomodate the button ties.
We used the old foam to pattern the holes. The custom buttons were fabricated from the new upholstery fabric, so they're a perfect match.
The burgundy upholstery fabric selected by the owner is reminiscent of the original without the cut design. It's a high performance polyester chenille treated with stain resistant Crypton; more durable than the original velvet and a lot easier to maintain.