Restoring 19th Century Chairs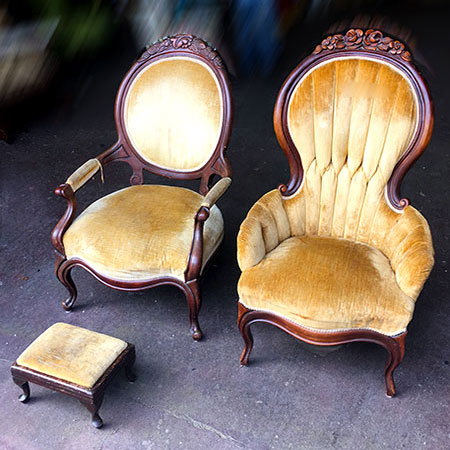 Antique Chairs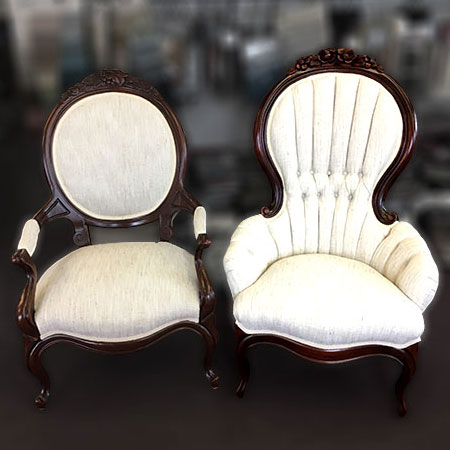 Reupholstered & Restored Chairs
When furniture from the mid-19th Century arrives in our shop, it gets our attention. This set of king and queen Victorian chairs with a matching footstool appear to be from the 1850s, based on a trademark stamp on the frame. The owners hadn't realized the chairs were that old.
Originally, they wanted to update the furniture with new upholstery fabric, new foam, plus any touch-ups and frame repairs we encountered during a standard restoration. Discovering how old and potentially valuable the chairs were, they decided to invest a little more money in the project.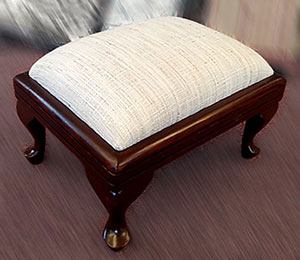 The seat cushions and back rests had been reupholstered at some point, but the original padding appeared to be intact. Believe it or not, these cushions were padded with specially treated Spanish Moss. Moss was a popular stuffing material long ago because it was inexpensive and readily available in the Southeast, where the furniture industry was big.
Retaining period specific cushioning material can enhance the value of an antique. Straw, coconut fiber, excelsior (AKA wood wool) and horsehair were also popular cushioning materials back in the day. The moss in this furniture was too dehydrated to reuse, so we turned to horsehair.
Horsehair is organic and durable, but it's not as comfortable as today's polyurethane foam. The trade-off is authenticity. Since the chairs and footstool are primarily for display, comfort is less important than keeping things original. After rebuilding the cushions, we completed the project by covered the chairs with a solid polyester upholstery fabric from Kravet.