Here's a lovely antique bench seat in need of repair. We'd call it a settee, but it's not quite large enough.
This piece is perfect for a vestibule, den or an odd space too small for anything else. Judging by the threadbare upholstery and battered woodwork, it's roughly a century old. The bench seat has tons of character, but when it came to us it looked destined for a dumpster.
When something is this far gone, new upholstery is never enough. You have to strip it down to the bones and build it back using the parts you can salvage.

Antique Bench Seat

Damaged Tack Rail

Burlap Webbing

Repaired Spring Box

Fabric & Foam Layers

Repaired & Reupholstered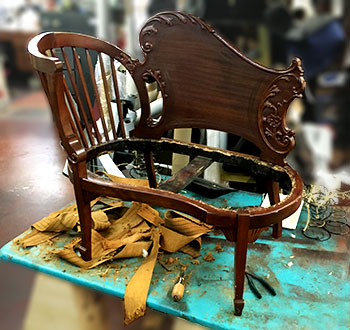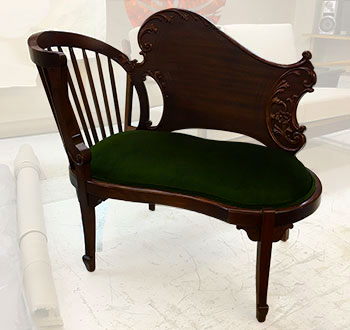 Except for the tack rail, the woodwork wasn't too badly damaged. We repaired the rail and legs, then touched up the woodwork with a matching stain.
The owners could've saved money by replacing the spring box with foam, but they wanted the deck rebuilt the proper way. Good old fashioned jute webbing is still the best foundation material for a standard spring box. The antique springs were in good shape, so we rebuilt the cushion with jute and the original coils. We anchored the coils using a traditional eight way tie.
We covered the springs with sheets of burlap and jute padding. Then we topped the jute with one inch of polyurethane foam and cotton batting. The lush velvet upholstery fabric takes the bench back to its original look.