Reupholster Outdoor Furniture
Back in the day, outdoor furniture cushions were upholstered in stiff, water-resistant vinyl. The old fashioned vinyl was durable, but slick and uncomfortable. What's more, it didn't age well, as you can probably see from the first two pics.
Today, there are much better alternatives for reupholstering deck furniture.

Old Patio Sette

Old Patio Chair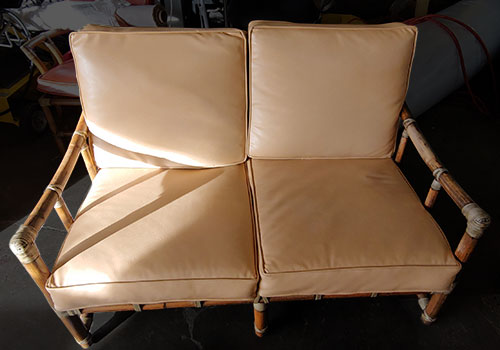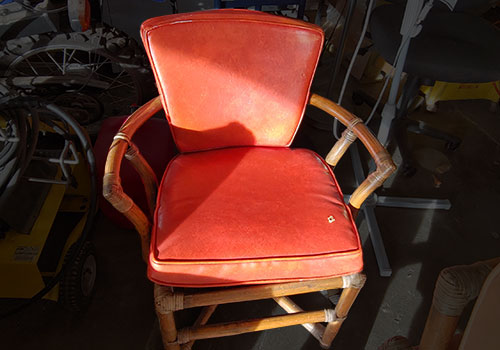 You don't want to use natural fibers, such as cotton, wool or linen for outdoor furniture. Even a blended fabric containing a small amount of natural fiber can rot in an outdoor environment.
Synthetic fabric such as Sunbrella® is better for marine and outdoor applications. Sunbrella's line of upholstery fabric is a popular choice for patio furniture because it doesn't fade, repels water and resists mold and mildew. On the other hand, the solution-dyed acrylic fiber Sunbrella uses in its fabrics can be a little rough. Polyester is often a better alternative for deck furniture.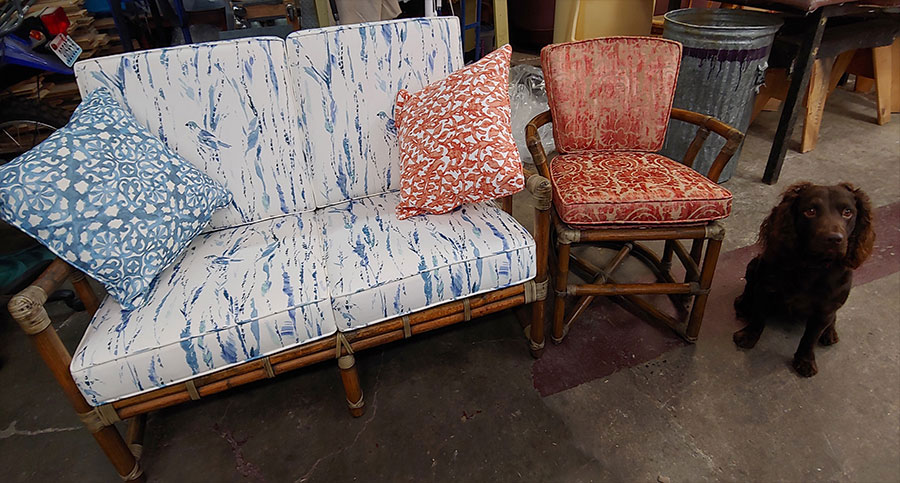 Reupholstered Patio Furniture & American Water Spaniel
In addition to being okay for outdoor use, polyester tends to be softer than acrylic. Choice is another plus. Polyester offers far more styles and color combinations.
The fabrics we used for this patio chair and settee are contemporary polyester prints. The owner also ordered matching pillows. Both the pillows and the cushions are welted. Welting is a nice way to dress up a cushion, but there are a couple of things to keep in mind if you like the look. Welting creates crevasses where dirt and debris collect. That can be a problem with outdoor furniture. Also, a welt usually wears down faster than the surrounding fabric; everytime somebody sits or stands their body rubs against the welt. It's something to keep in mind if your cushions are used a lot.