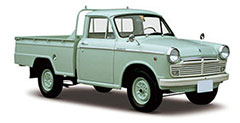 The Datsun 320 single cab "truck" was one of the original Japanese imports. It was manufactured from 1961 to 1965 in three series (320–322). It's technically a truck, but it has the awkward look of a pickup "designed by committee"; the bed on some models looks like it was glued on as an afterthought. Its tiny 1.2 liter engine was barely powerful enough for highway driving. The vehicle was also configured as a utility truck and panel van. Because they're so unusual, the 1963 Datsun 320 is prized by some collectors.

Original 1963 Datsun Seat

Restoring Seat Frame

Rebuilt Cushion

Restored Bench Seat
Here's a bench seat from a 320 cab. The foam had deteriorated and the vinyl cover had stiffened over the years. A bench seat this old required a total rebuild.
We stripped it all the way down to the spring bed and frame, then built it back with brand new foam and premium quality vinyl in two colors: Silver Stone and Black. We also reupholstered the door panels in matching colors. They weren't the original vinyls, but the colors recall the sixities, when this truck was built.