Vintage Shasta Trailer Fold-Out Bed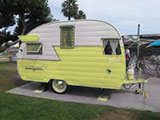 Shasta trailers got their start as mobile military housing in 1941. They were called "house trailers" back then. That market dried up after World War Two, but America's burgeoning highway system spawned a lucrative new market; the travel trailer.
Back in the 50's and 60's there was no mistaking the distinctive "toaster-on-wheels" design of Shasta's first travel trailers. The decorative wings on the side signified flight and freedom. You still see these old Shasta trailers on the road every now and then.
These are the original seat cushions from one of those 1956 Shasta Trailers. The hinged cushions double as fold-out beds. After sixty plus years, the seats were overdue for a makeover. The owners liked the old design, but preferred a new color with better padding.

Original Fold Out Bed

Aligning Support Coils

Layered Padding

Fabricating Covers

Seat Back Completed

New Fold Out Bed
These cushions were cutting edge technology in the mid-fifties; coiled springs wrapped in sisal and cotton batting. Cushioning technology has improved quite a bit since then. So, instead of rebuilding the old seat the same way, we created a contemporary feel without sacrificing the old fashioned look.
We augmented the original coil box with brand new torsion springs. We were also able to reuse the old sisal padding. The rest of the seat was another story. The original burlap was trashed, so after wrapping the coil box with new burlap, we added separate layers of polyurethane foam, cotton batting and reinforced scrim. Then we went to work on the cover.
We replicated the original cover by using the old one as a template. After replacing the original vinyl with something more contemporary, we tracked down a blended upholstery fabric to go with it. As you can see, the renovated seat looks just like the original in blue.