Adjust Harley Heritage Backrest Pad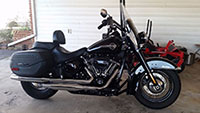 The Harley Heritage Classic Softail® has a retro look, but there's nothing nostalgic about its ride. It boasts a state-of-the-art Milwaukee Eight Big Twin engine with plenty of rumble to spare. The stiff frame and minimal rear suspension delivers a responsive ride.
Like all production bikes, the Softail® seat is designed for an average person's body. Since most people are not average, seats usually need a tweak or two to fit right. In this instance, the owner needed the backrest pad adjusted.
Add Padding to Backrest
Design Matches Original
The owner insisted on keeping the original retro look, so wrapping a few inches of extra padding in generic vinyl wasn't going to cut it. Instead, we removed and rebuilt the backrest with a slightly larger pad, then designed and fabricated a cover that matched the original. The rebuilt backrest not only fits like a glove, it's a dead ringer for the original. Best of all, the additional padding turned a smooth ride into near perfection.
This is a great example of a little change that makes a big difference. If your ride doesn't feel right, give us a call. A couple of simple changes could make all the difference.