Vintage British Bikes Seats
A customer in Michigan recently purchased a pair of vintage gems: a 1971 Dunstall equipped Norton Commando and a 1967 American Eagle Sprite. The Dunstall Norton is especially prized by British motorcycle collectors. Its speed and performance dominated the UK racing scene during the late sixties. Actor Steve McQueen and musician Keith Emerson, of the rock band Emerson Lake & Palmer, were among the celebrities who purchased Dunstalls during their heyday.

1971 Dunstall Norton Commando

1967 American Eagle Sprite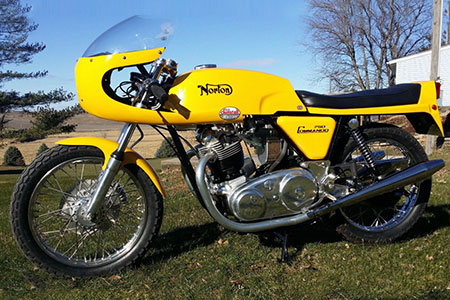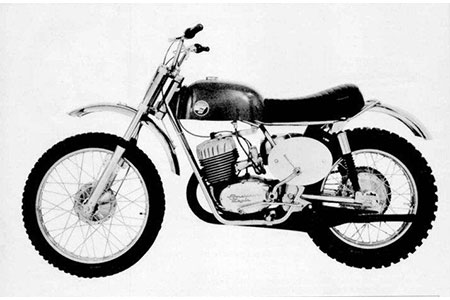 When bikes are this old, the first thing to go bad is usually seat upholstery. As expected, both of these collector bikes needed a new cover and a seat rebuild.

Original Dunstall Norton Seat

Rebuilt Dunstall Norton Seat

Flawless Stitching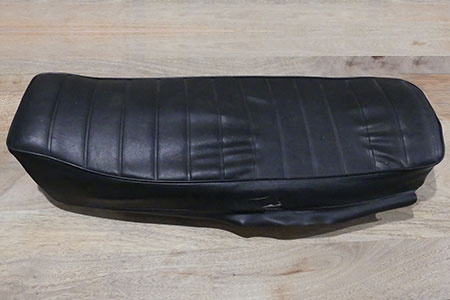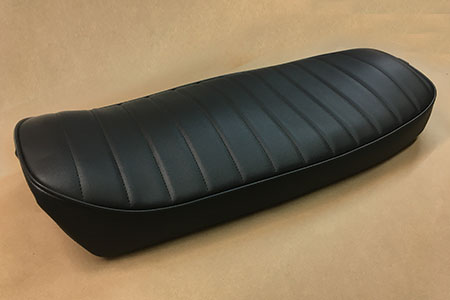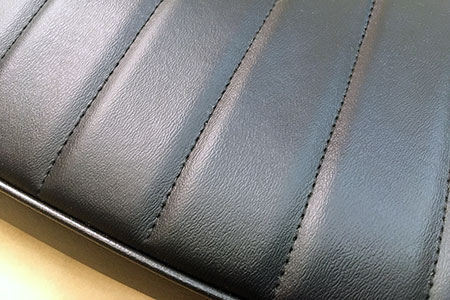 The seat from the Norton Commando Dunstall (above left) appeared to be original, so it provided us with a perfect template. We tuned-up the seat pan, rebuilt the foam, then copied the vinyl pattern from the original down to the precise number of horizontal ribs.
Today's high performance vinyls are a lot better than the junk they were using back in 1971. As you can see, the rebuilt seat looks the same as the original, but with much better foam and vinyl.

American Eagle Seat Repair

Recovered 1967 Motorcycle Seat

Reupholstered American Eagle Sprite Seat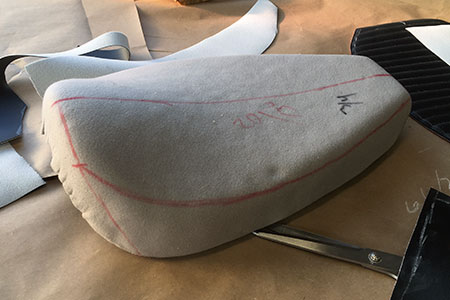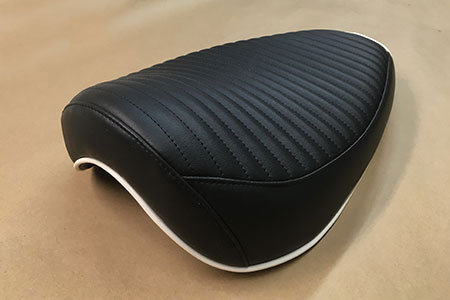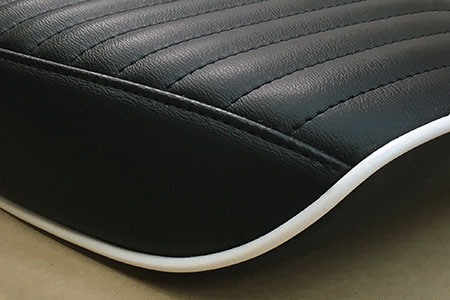 The 1967 American Eagle Sprite was an off-road dynamo designed for trials, scrambles and motocross. Despite its name and the "American Eagle" logo cast into its engine case, the American Eagle Sprite was never manufactured in the United States. The bike was a private-label motorcycle built at Sprite Developments near Birmingham, England.
Instead of reproducing the original seat, the customer wanted something a little more styish. After rebuilding the padding, we designed and fabricated a seat cover with snappy horizontal pleats and a contrasting accent welt. It's not authentic, but it's a definite upgrade from the plain looking original seat cover.