Wagoneer Interior Rebuild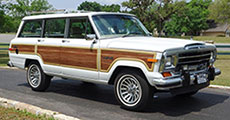 The Jeep Grand Wagoneer 4X4 is considered by many as the first luxury SUV. It was manufactured between 1963 and 1991, so even the most recent model is 30 years old.
This one was in pretty bad shape when it came to us. The interior was rusted bumper to bumper and the upholstery was shredded.

Rust Damage Throughout

Rust Repair & New Carpet

Damaged Door Panel

Restored Door Panel

New Interior

New Interior
Before repairing anything, we stripped the interior of the Wagoneer down to the floor pan. A little bit of elbow grease and primer got rid of the rust. Then we wrapped the interior with DexDamp sound damping sheets to quiet the ride.
This Wagoneer was manufactured so long ago that replacement parts are scarce. Because parts are hard to find, restoring the flooring and side panels required a lot of custom work. Most of the carpet and side panels are fabricated from scratch. In addition to that, we repaired the seat padding.
As you can see in the bottom two pics, the Wagoneer's interior looked brand new when it left the shop!